Why use Investments?
It's Simple! Invest to get a return on your Investments! (ROI). There is never a better time to start creating wealth than now. The Australian investments market place is one of the most complex and diverse markets in the world. Investment vehicles are available in many different types, ways and forms. There is the low risk style of investing, all the way up to the high risk investing. Generally the younger the person, the more risk he or she will take, as opposed to the older investor who typically takes lesser risk.

Strategically we look for low cost, undervalued companies that coincide with our clients goals, needs and objectives. Depending on the time horizon, we will monitor closely how to achieve specific income and capital goals. With the proceeds either been allocation to pay down some property investment debt, reduce some credit card debt, utilise for pension payments or simply accommodate a one off holiday.
Our investments analysis is provided by Morningstar who delivers;
Managed Funds Research, specific to risk profiling and measuring investment philosophies.
Direct Shares and other asset class investments.
Fund recommendations and detailed qualitative reports on more than 850 investments funds.
Access to quantitative data for more than 7,700 funds.
Comprehensive portfolio management tools.
The power of investing has significant upside, that is why we invest at low points in the market, so we can increase the value of our asset base and retire earlier than the present retirement age of 67. We use unique investments techniques, in order to have a competitive edge against the variables at play. When markets are down, we are able to capitalize on opportunities when we see them. A few keys to investing include, buying low, selling high and diversification.
Property & Infrastructure Research
Comprehensive reports and recommendations on a range of property and infrastructure investments.
Stockbroking Research – Direct share and equities.
Research covering ASX-200 stocks.
Research and recommendations for a range of listed income investments.
 ASX200 Market Watch
The S&P/ASX 200 Index (XJO) is recognised as the investable benchmark for the Australian equity market, it addresses the needs of investment managers to benchmark against a portfolio characterised by sufficient size and liquidity.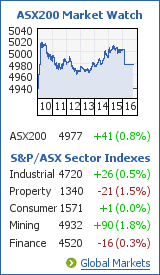 *The ASX 200 reached 6,000 points for the first time on Thursday 15 February 2007.
The S&P/ASX 200 is comprised of the S&P/ASX 100 plus an additional 100 stocks.
S&P: Standard and Poor's
ASX: Australian Stock Exchange
It forms the basis for the S&P/ASX 200 Index Future and Options and the SPDR S&P/ASX 200 Exchange Traded Fund (ETF).
For more information regarding how to access the Australian stock market as another alternative to your diversified portfolio of investments. Give us a call on 1300 850 902, or simply leave your contact details below.

A Wyse Wealth Financial Planner can help you understand strategies such as gearing, dollar cost averaging, salary sacrifice, portfolio construction and dividend re-investment plans.
In order to start your Investments journey, call us today on 1300 850 902. Alternatively leave your contact details below.